Custom LED Signs and Digital LED Displays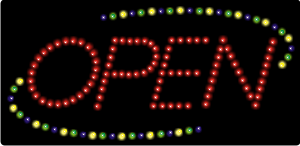 Even in the busiest retail locations, these LED signs with flashing messages and chasing borders draw attention to your storefront and put the focus on your business. The iconic "OPEN" sign is often the first thing people look for as an indication to enter your business.
Custom LED Signs
Whether you're looking for a sign for your private kitchen, your pizzeria, your clothing store, your office, or anything in between, we can create custom, portable, and programmable LED signs to your specifications.
LED lighting is eco-friendly, safe, easy to use, effective, and versatile. High-intensity LEDs are visible from long distances and wording is crystal clear, producing less glare than traditional neon lighting. Our custom signs feature long-life LEDs and a 3-year warranty are safe and low voltage, easy to clean, and are cool to the touch.

If you have questions or want to request a quote, fill out our form today!
Note there is absolutely no obligation. We can discuss your illuminated sign needs or answer any other questions you may have.