Custom Large Format Digitally Printed Graphics
As we've said before… "A masterpiece always starts with a blank canvas."
Digital printing starts off as just that, a blank canvas waiting to be turned into a masterpiece. Our highly experienced and creative team of designers and technicians are here to help you achieve your custom signs masterpiece.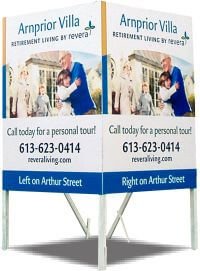 100% Custom
Ray Neon Signs offers custom, large-format, digitally printed vinyl graphics in a large variety of sizes and colours. These roadside signs are extremely versatile and can be installed virtually anywhere and everywhere.

Request a quote today!
Please note that there is no obligation when contacting us. We are ready to answer your digital printing questions and provide expert advice.