Gas and Price Changing LED Signs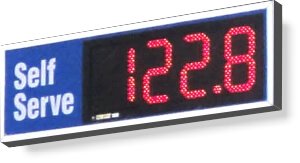 Our LED price changers make changing gas and service prices effortless. Digital technologies have taken over the days of manual sign changing and allow for more display options. Price changing LED signs can be customized to add special announcements and sales.
LED Efficiency
Thanks to new technologies, our LED signs are low-maintenance and low-cost, not to mention they shine brighter and longer than traditional neon lights so your business will be seen from miles away, both day and night. Customers can rest assured knowing that your prices are up-to-date and easily visible, and you can be confident knowing you're providing the best service you can in a hassle-free way.
Full Customization
Ray Neon Signs has the facility and the equipment to grant you full customization of your price changes. From size to colour, we create custom LED signs to your specifications. Our team is fully staffed with everyone you need, from designers and manufacturers, and we're ready to jump in any step of the way, whether you already have a design or are looking to have one created for you.

Fill out the form for a quote today!
Note: there is absolutely no obligation when contacting us. We are happy to answer any of your questions and provide you with expert advice.