40-Foot Boom Truck Rental (12 Metres)
Boom Truck Rentals
Available for rent from our sign company, our boom trucks come fully-stocked, boasting a 40-foot reach, ideal for many installation jobs. As with all vehicles in our fleet, our boom trucks are operated by highly trained, professional technicians who perform every job with speed and precision.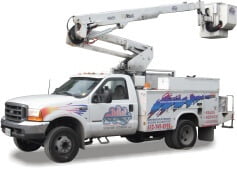 Jack-Of-All-Trades Solution
Though not as far-reaching as a crane truck and not as nimble as a bucket truck, our boom trucks are an excellent fit for most tasks. Big enough to get the job done, but small enough to keep the fuss to a minimum, our boom truck operators are ready to help with your Ottawa sign needs.
Request a quote today!
Note that there is absolutely no obligation and our highly experienced team of representatives is happy to answer any of your boom truck questions.