35-Foot Bucket Truck Rental (10.5 Metres)
Bucket Truck Rentals
With the shortest reach in our sign company, our 35-foot bucket trucks are perfect for smaller jobs, and boast a smaller footprint, making them ideal for tighter urban work on Ottawa signs. As with the rest of our fleet, each vehicle is fully-stocked and operated by highly trained, professional, and experienced technicians. Our operators are ready to tackle the job and get it done quickly and with courtesy.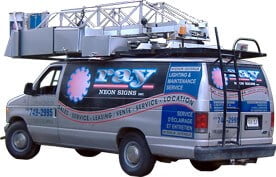 The Right Fit for Your Job
Ottawa can be a crowded place, especially when it comes to installation work. Our sign company is happy to offer our bucket truck rental services, ideal for smaller signs in Ottawa and work that larger vehicles can't access.
Request a quote today!
Note that there is absolutely no obligation when contacting us. Our highly experienced team of representatives is happy to answer any of your boom truck questions.