Wraps and Graphics Custom Designed for Any Vehicle
Custom Vinyl Vehicle Wraps & Graphics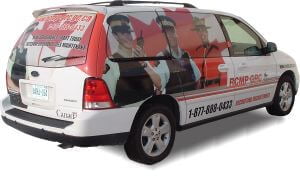 Advertise your business with corporate signs everywhere you go. Ray Neon Signs vehicle graphics solutions are one of the most cost-effective ways to advertise your business. Your vehicle could be making over 16 million impressions a year in your local community alone.
100% Custom
Whether you're driving a small sedan or a big transport wrapped in our custom-designed printed vinyl, your vehicle becomes a perfect advertisement and corporate sign for your business. We will measure your vehicle for you and create fully customized signs in Ottawa, whether you're looking for a simple decal or a full vehicle wrap.
Quality and Durability
You don't have to fret knowing that our team of expert manufacturers and technicians will take care of everything for you from measurements, to applications and removals. We give our customers a quality guarantee and assure them that we use top-quality materials to create all of their custom corporate signs.

Request a quote today!
Note that there are absolutely no obligations when contacting us. Our highly experienced team of representatives is happy to answer any of your vehicle graphic questions.