Pylon Signs and Custom Pylon Sign Solutions
Custom Pylon Signs and Free-Standing Storefront Signs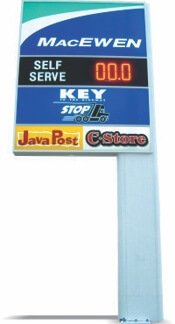 Custom pylon signs are perfect for advertising your company. These storefront signs are one of the most effective marketing tools. They greatly increase your business' visibility to commuters and passers-by, allowing you to establish your business in the area.
We have been designing and manufacturing 100% custom pylon signs for decades. As with any of our products, our highly-experienced workshop crew uses state-of-the-art materials and equipment in every component produced.
Full Customization
These storefront signs are perfect for relaying your brand to prospective or existing customers. Like monument signs, pylon signs can incorporate different signage options such as: backlit signs, vinyl signs, illuminated signs, channel letters, and more.
These signs are fully customizable and can be built to your exact specifications, big or small. Whether you already have a design in mind and are ready to have your sign built, or if you are looking for some creative input or guidance on what would be best for your business, our team is fully staffed and able to meet your needs.
Safety Guarantee
Manufacturing your custom pylon signs with time-honoured methods, Ray neon Signs incorporates all electrical and electronic components to meet CSA standards. Safety is of paramount importance to us and we pride ourselves on quality craftsmanship with attention to detail throughout the entire process, from manufacturing to installation.

Request a quote today!
Please note that there is no obligation when contacting us. We are ready to answer your questions and provide you with expert advice.