Sign Maintenance and Repairs That Save Money
If you've got a problem, we've got the solution. Ray Neon Signs is on-call to provide fast and responsive repair and maintenance services. Whether the issue is with your sign lighting or general maintenance, we've got you covered. As part of our continued service for our clients, we offer comprehensive maintenance packages to extend the life of your signs and save you money.
Invest In A Sign Maintenance Package
Our sign maintenance packages can help save you time and effort in the long run. Investing in a sign maintenance package will:

Extend the life of your signs
Prevent problems before they become major expenses
Assist in budgeting your sign maintenance costs
Identify who to call if there is a problem
Create a maintenance history of your sign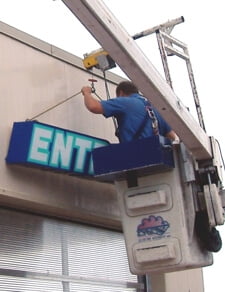 Years of Experience
Our maintenance and repair team has years of experience dealing with any and all problems that can arise during the lifetime of your signs.

Request a quote today!
Note that there is absolutely no obligation and our highly knowledgeable and experienced representatives are happy to answer any of your questions.