Lighting Division for All Indoor and Outdoor Lights
Our experienced lighting division specializes in the installation, repair, and maintenance of all indoor and outdoor lighting. Our fleet of service vehicles includes high reach cranes and buckets trucks fully stocked with standard products, including LED sign lighting support – all crewed by friendly and knowledgeable staff.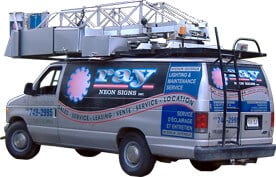 Our Lighting Services
When it comes to cleaning, re-lamping, and repairs, our lighting division is second to none. We are available to service parking lot standards, sign lighting, LED lighting, office buildings, retail stores, universities, as well as numerous other properties.
Lighting Up Your World
As Ottawa's leading sign company, we can provide years of experience and a quality guarantee to our clients. We've been keeping up with the fast-moving world of technology to offer you the best we possibly can when it comes to any of your sign lighting needs.

Request a quote today!
Please note that there is no obligation, we are ready to answer all your lighting questions and provide expert advice.