Clock Faces, Clockworks, and Clock Towers
Ray Neon Signs has a great deal of experience manufacturing, installing, repairing, and maintaining analogue clock faces and clockworks.
Attractive and Functional
If you're looking for a way to make your custom business sign stand out above the rest and want to do something unique, Clocks have always been a clever way for a business to offer a public service while effectively drawing positive attention to their storefront signs.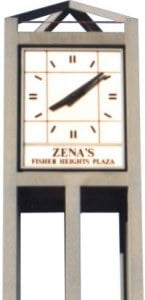 Request a quote today!
Please note that there is no obligation when contacting us, we are ready to answer your questions and provide expert advice.